We have 2 online stores, one for supplements and one for books.
Since they ship from different physical locations, separate orders need to be placed per store.
LIVING SUPPLEMENTS STORE 
Chelation supplements
The Living Supplements store carries ALA/DMSA & DMPS manufactured products from a GMP-certified facility,
using only the highest grade USP products to ensure purity and safety.
ANDY CUTLER BOOK STORE
Books related to Andy Cutler's chelation protocol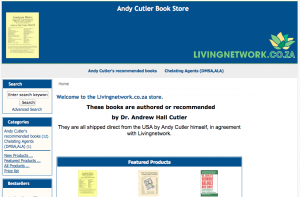 The books in the Andy Cutler book store are authored or suggested by Dr. Andrew Hall Cutler.
Shipped direct from the USA by Andy Cutler himself, in agreement with Livingnetwork